Posted by Kettle Care® Botanicals Team on Nov 7th 2022
Choosing the right gifts for the people you love can be stressful.
Yet, there is nothing more gratifying than giving the perfect gift
- finding just the right present to say
"I care about you."
Here at Kettle Care, we have the perfect something for everyone in your life. Whether you're shopping for a nature lover or a homebody, a teen with sensitive skin or a dedicated firefighter with rough hands, we have a gift set for you!
This guide will show you the A–Z of our gift sets and help you find the perfect holiday treat for everyone in your life.
---
The "Turn Back Time" Collection

This set is perfect for spa lovers, skin care obsessives and anyone who wants to resist the effects of time. Hydrate and cleanse with our silky-smooth Chamomile Cream Cleanser, and clarify with our glorious-smelling Rejuvenating Rose Toner. Reduce the appearance of fine lines and wrinkles with our age-defying Essential Rose Crème and luxurious Revitalizing Eye Creme.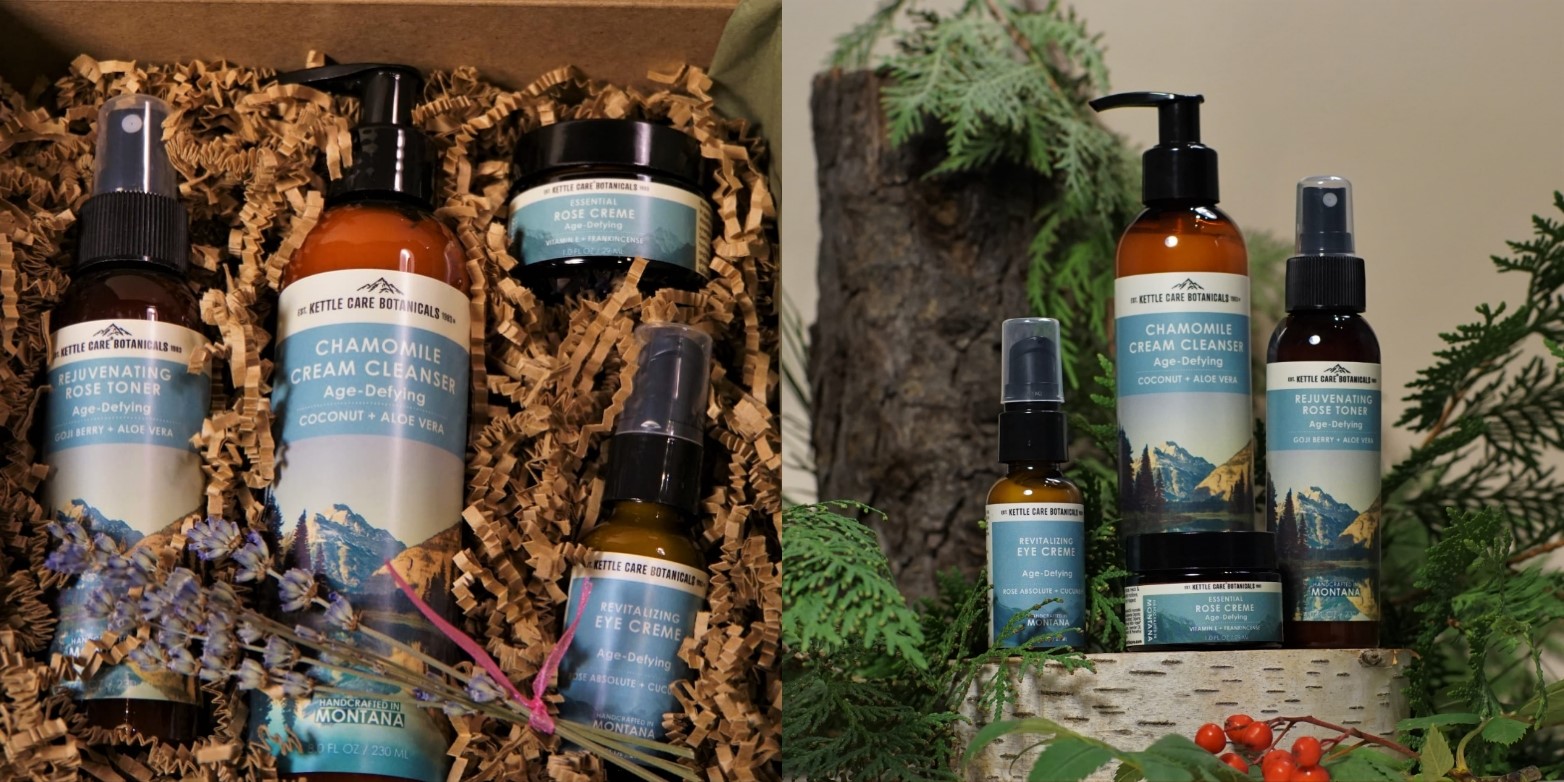 This is skincare as Mother Nature intended, packed with botanicals and essential oils made by and for nature lovers. Cleanse, enrich, and refresh your skin with our Lemongrass Cleanser and Lemongrass Toner. Potent botanicals and toxin-battling minerals combine in our Microdermabrasion Masque & Scrub to clarify and keep your complexion healthy and bright. Our bestselling Enriching Royal Jelly Crème softens and tightens the skin — and protects it from the elements!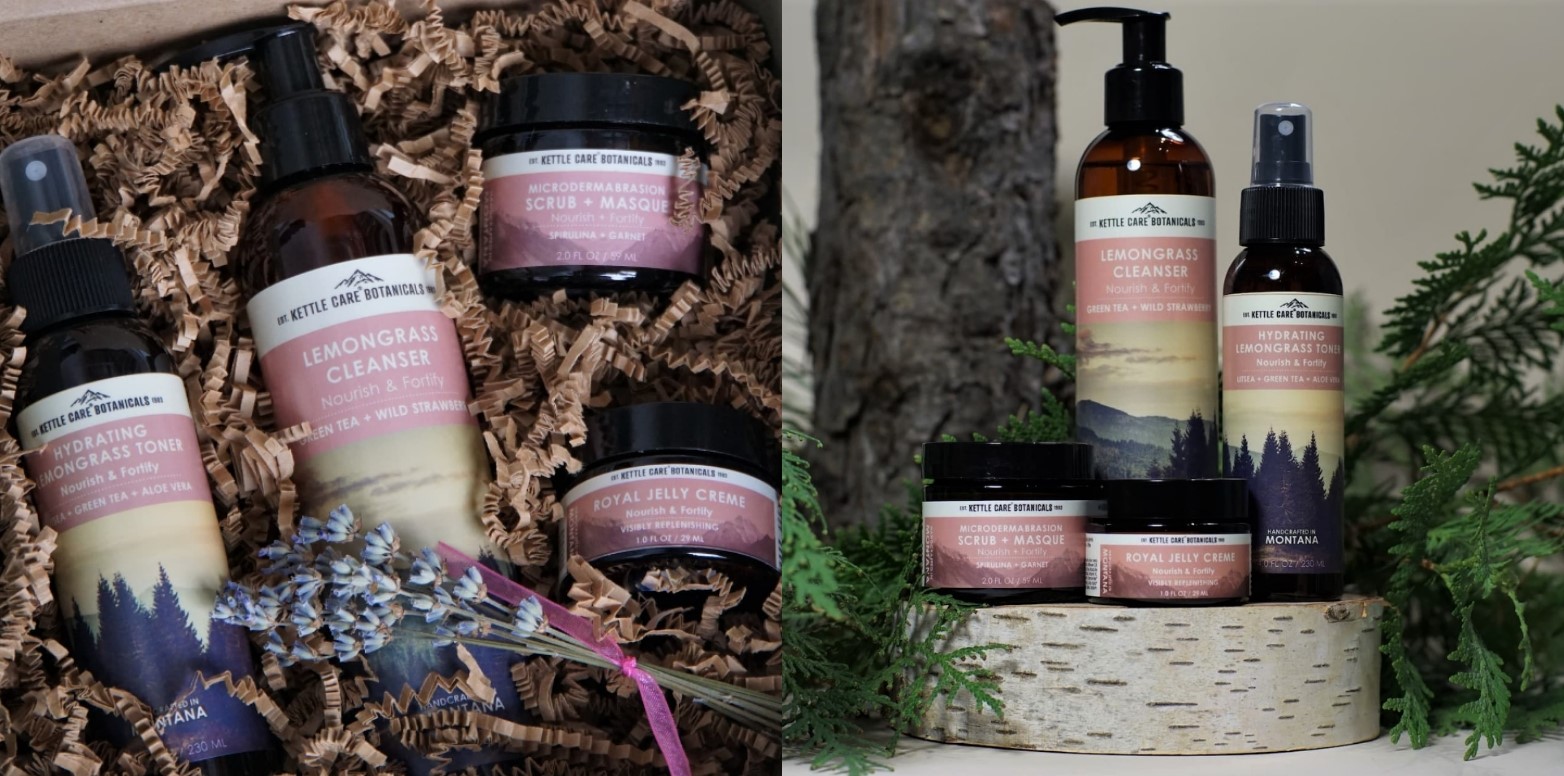 Perfect for young adults or anyone with skin that needs special attention, this set is powered by our gentle, clarifying Lavender Cleanser and Lavender Toner. Our Clarifying Calendula Moisturizer moisturizes and nourishes deeply without clogging pores. Our Gentle Glow Facial Polish exfoliates gently while protecting your skin from future damage and signs of aging. Fine Jojoba Beads give you a natural, safe scrub while antioxidant-rich Green Tea exfoliates and protects.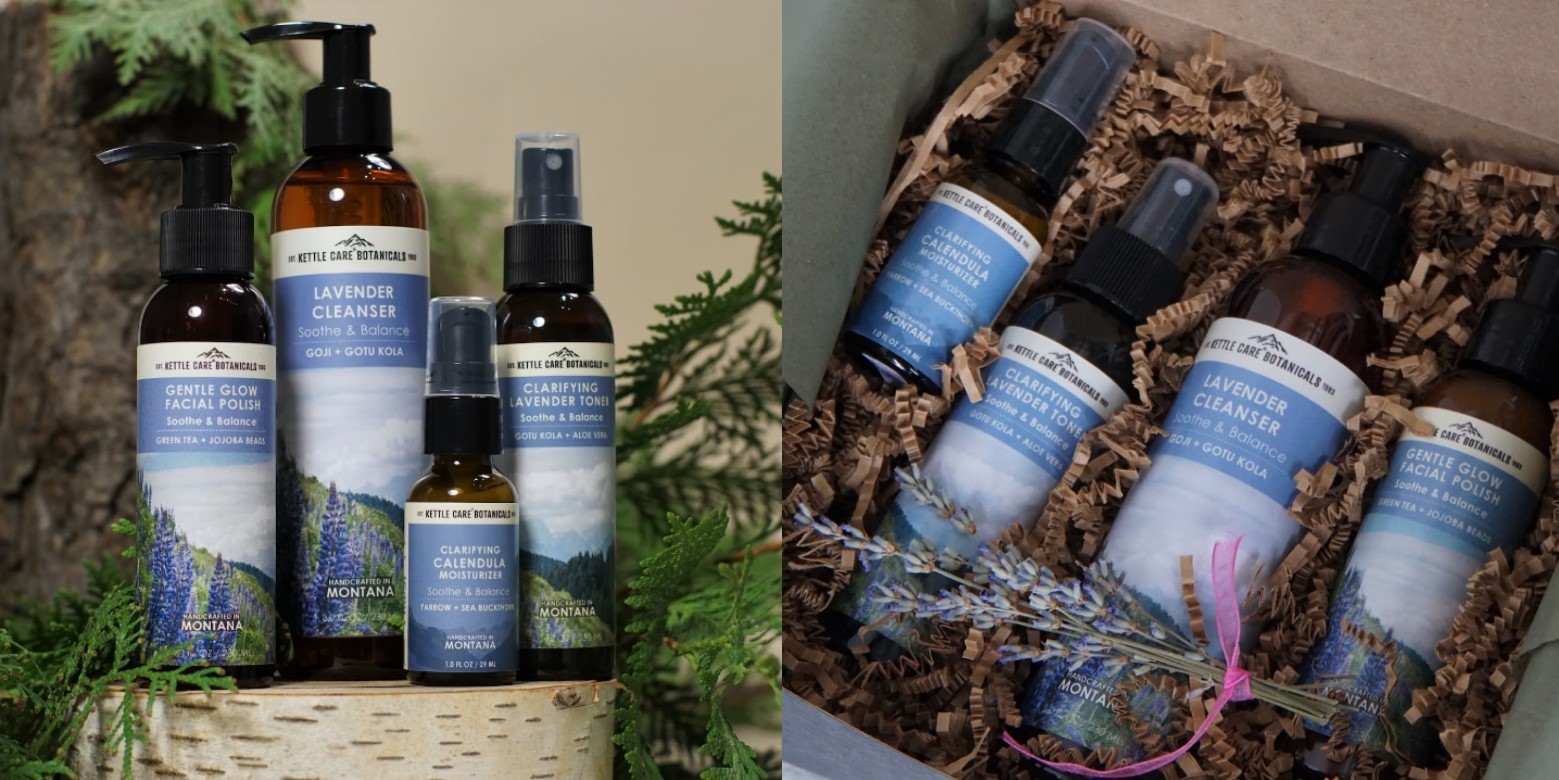 This is the perfect holiday gift for anyone who likes to rough it — but doesn't want rough skin! Ultra-rich and powerful enough for the harshest weather, our Ultra-Rich Uplifting Lemongrass Body Lotion is formulated to relieve dry and cracked skin. Whether it's a strenuous day of hiking or an unexpected flip on the slope this winter — outdoor adventures can take their toll. Our Arnica & Comfrey Rub will leave you soothed, relaxed, and ready to get back outside in no time. And our Royal Jelly Crème will protect your skin from future damage. After your done enjoying the Great Outdoors, have a good soak in our Northwest Wilderness Mineral Salt Bath.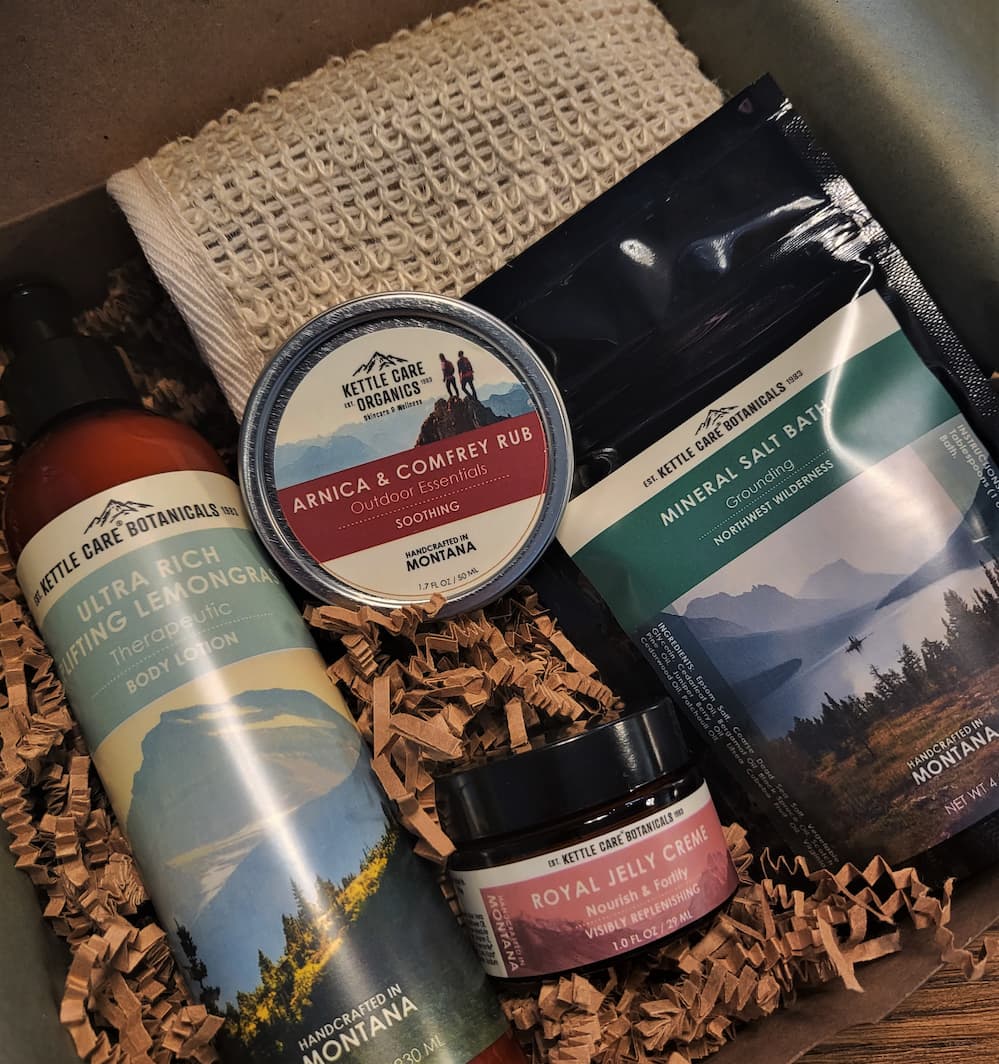 The "Cozy Up & Stay-At-Home" Set

This one is for the homebodies — the people in your life who'd rather stay at home and get cozy than venture into the unknown. Our ultra-rich Lavender & Ylang Ylang Body Lotion will nourish and soften your skin while setting your mind at ease. And our adorable limited edition Pine Cone Votive Candle made from 100% Montana Beeswax will set the perfect mood for your night in as you soak in our Relaxing Lavender Mineral Salt Bath.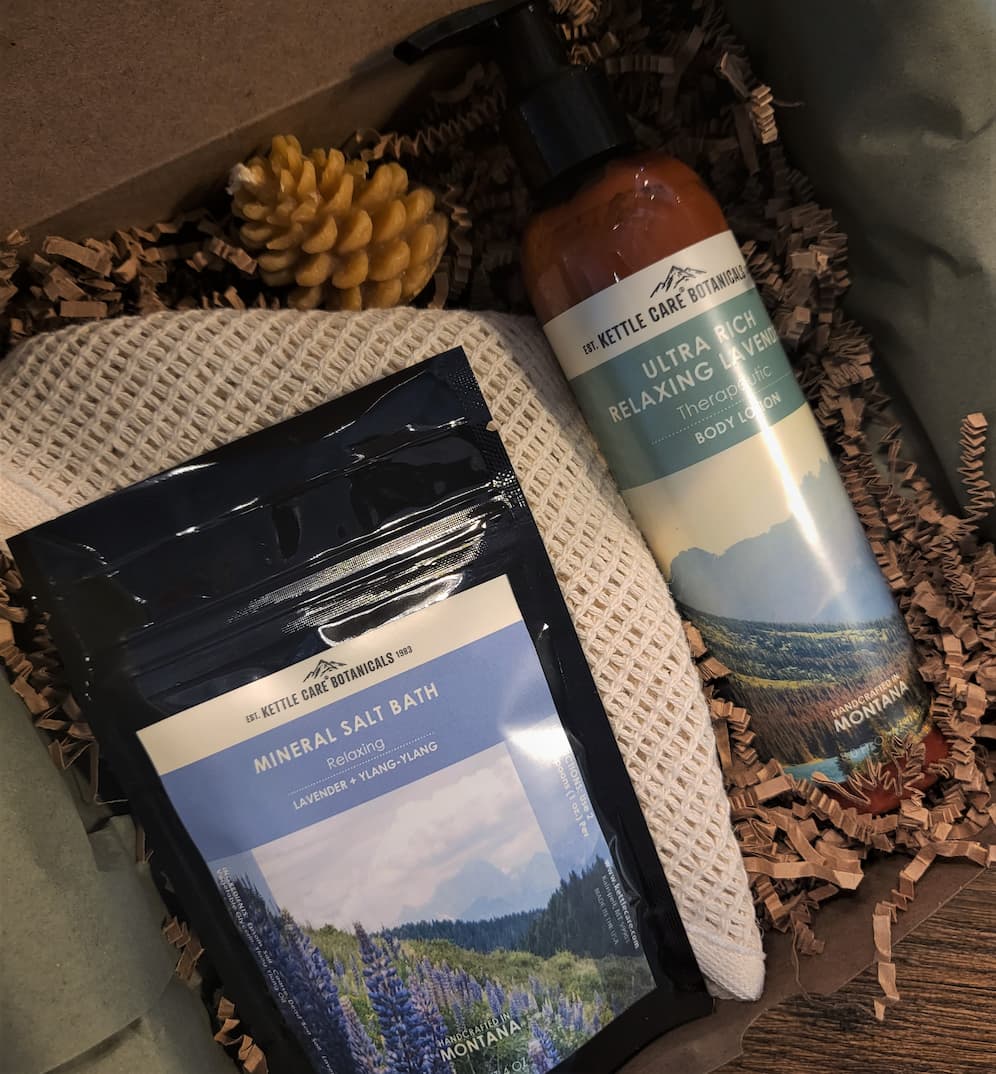 For the Mountain Man in all of us, this excellent gift box is wonderful for anyone who enjoys the woods. The rugged Shave Creme and Body Spray, in our signature Rocky Mountain Scent, filled with Pine, Cedar and Spruce essential oils this collection brings the feel of the Montana outdoors into your home. Sophisticated, refreshing and grounded this is wonderful for those who are not as interested in flowery scents, but still wish for something natural instead of chemically. And to keep you protected from the harsh Winter weather our Firefighter's Hand & Body Creme and our one and only Enviromental Barrier Lip Balm will keep your skin moisturized and soft, while still being your rugged self.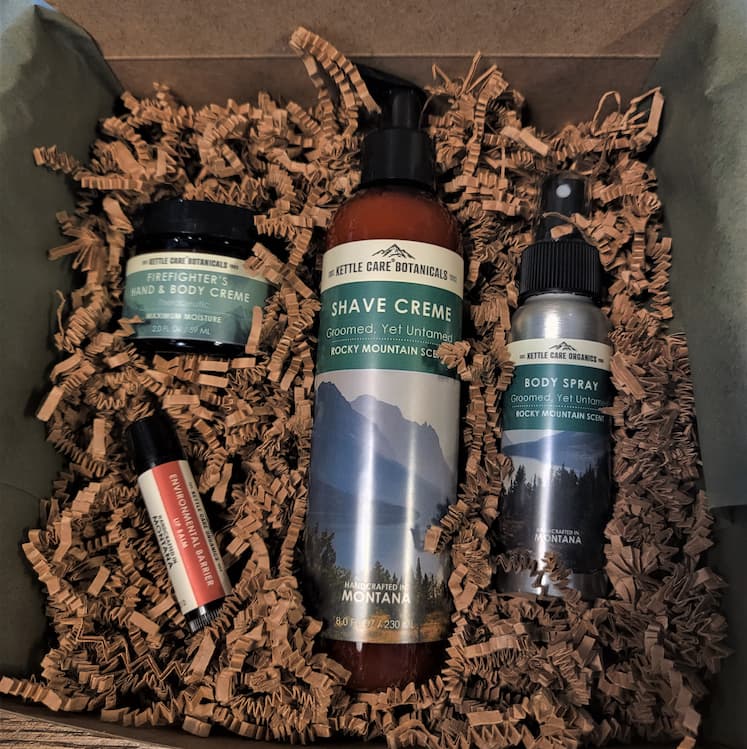 You deserve to enjoy yourself — whether you're out on the town, deep in the woods, or enjoying the comfort of your own home!
These sets are for the frequent fliers — the people in your life who are always on the go, always exploring somewhere new. Our Haircare Mini Travel Trio includes moisturizing shampoo, leave-in conditioner, and hair spray perfect for your suitcase or duffel bag. Our Nourish & Fortify and Soothe & Balance Skincare Travel Kits include travel-size versions of our cleansers, toners, scrubs, crèmes, and body lotions — the perfect products to keep your skin healthy as you explore.
And for the first time this year, the Age-Defying line gets a Travel Kit, including a cleanser, toner and creme!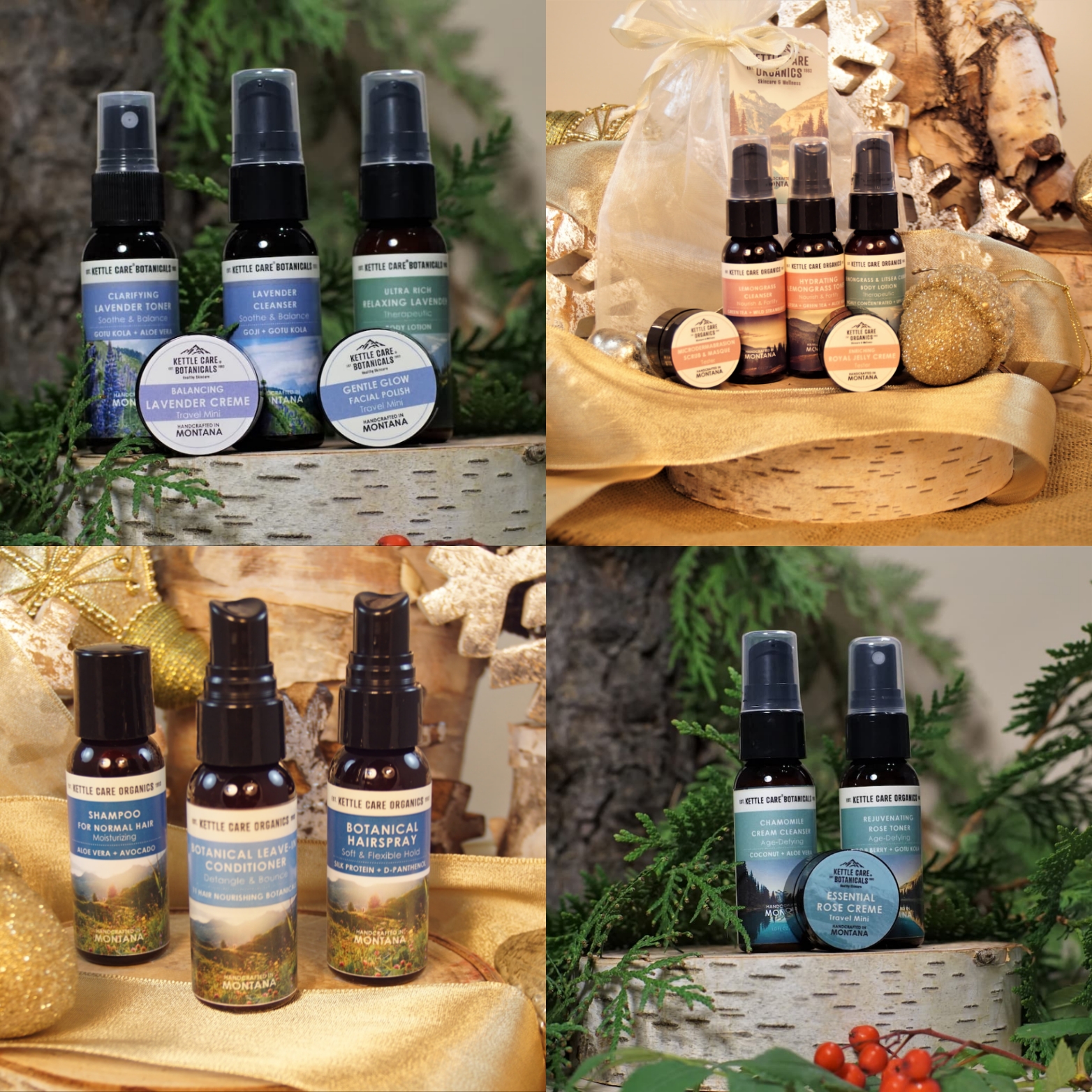 Stocking Stuffers
Last but not least, what would Christmas be without these treasures. Stuff your stockings with essentials like our Firefighter's Crème, Arnica & Comfrey Rub, and Lip Shimmer Duo. And yes, our Travel Kit products make lovely stocking stuffers as well!