Posted by Annegret & Kettle Care Team on Oct 19th 2023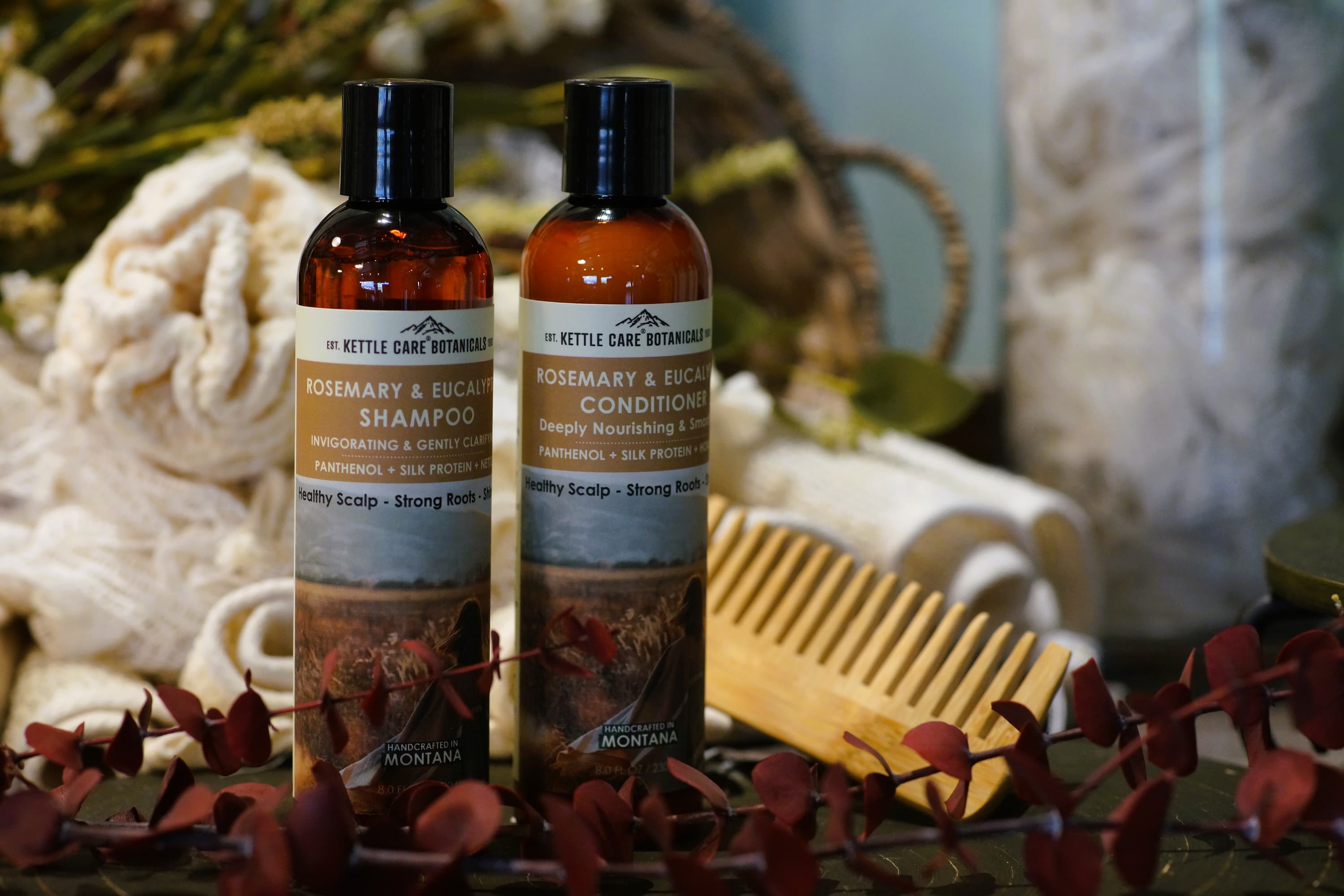 There's no "secret ingredient" in Kettle Care products. We don't have anything to hide. Our formulas are our proudest accomplishment, and we can't wait to share more about the formulas for our new Rosemary & Eucalyptus Shampoo and Conditioner.
This week, we're walking through all of the ingredients you'll find in the new shampoo and conditioner—and all of the ingredients you won't find.
Benefits behind the Ingredients:
Our shampoo and conditioner are formulated with a clarifying yet nourishing herbal elixir of 9 powerhouse botanicals, each thoughtfully selected to provide your hair and scalp with some much-needed love. Let's take a look at the magic behind the benefits.
Natural invigorating scent: A rich blend of Rosemary, Eucalyptus, Peppermint, and Spearmint oils leave behind a fresh, energizing scent that lingers just long enough to leave you feeling squeaky clean and refreshed.
Promotes hair growth: Eucalyptus oil extends your hair's natural growth phase, while the menthol in Spearmint promotes active hair follicles.
Gently lathers: Our shampoo doesn't have that aggressive foaming qualities of most shampoos. Instead, the natural oils and proteins gently cleanse without irritating your scalp or stripping your hair of moisture.
Leaves your hair shiny and strong: Fine Silk Protein and high-quality d-Panthenol bring new life to your hair, giving your locks a weightless bounce and effortless shine.
Soothes and cleanses your scalp: Silk Protein and d-Panthenol also work to soothe your scalp, while the menthol in Spearmint oil cleanses and promotes circulation in your scalp.
Not on Our Labels:
When we formulate products, we don't go the traditional route. We choose natural ingredients over artificial chemicals. With that in mind, let's take a closer look at a few ingredients you won't find on your Kettle Care labels.
Sodium Lauryl Sulfate: This harsh cleansing agent is known to cause skin irritation and can make your scalp more sensitive over time.
Parabens: Many companies choose parabens because they effectively kill microbes, fungi, and yeast. But there's some evidence that parabens disrupt the hormone levels in your body and irritate some skin types. The final verdict on parabens is still out, but we at Kettle Care decided to skip them. Better safe than sorry.
Artificial Fragrances: The scents in traditional hair care products are laden with unknown chemicals and can irritate your skin and disrupt your body's hormone production over time. In our shampoo and conditioner, you'll find only pure essential oils, distilled directly from nature.
You may also enjoy the following blogs & info: