Posted by The Kettle Care Team on Oct 10th 2023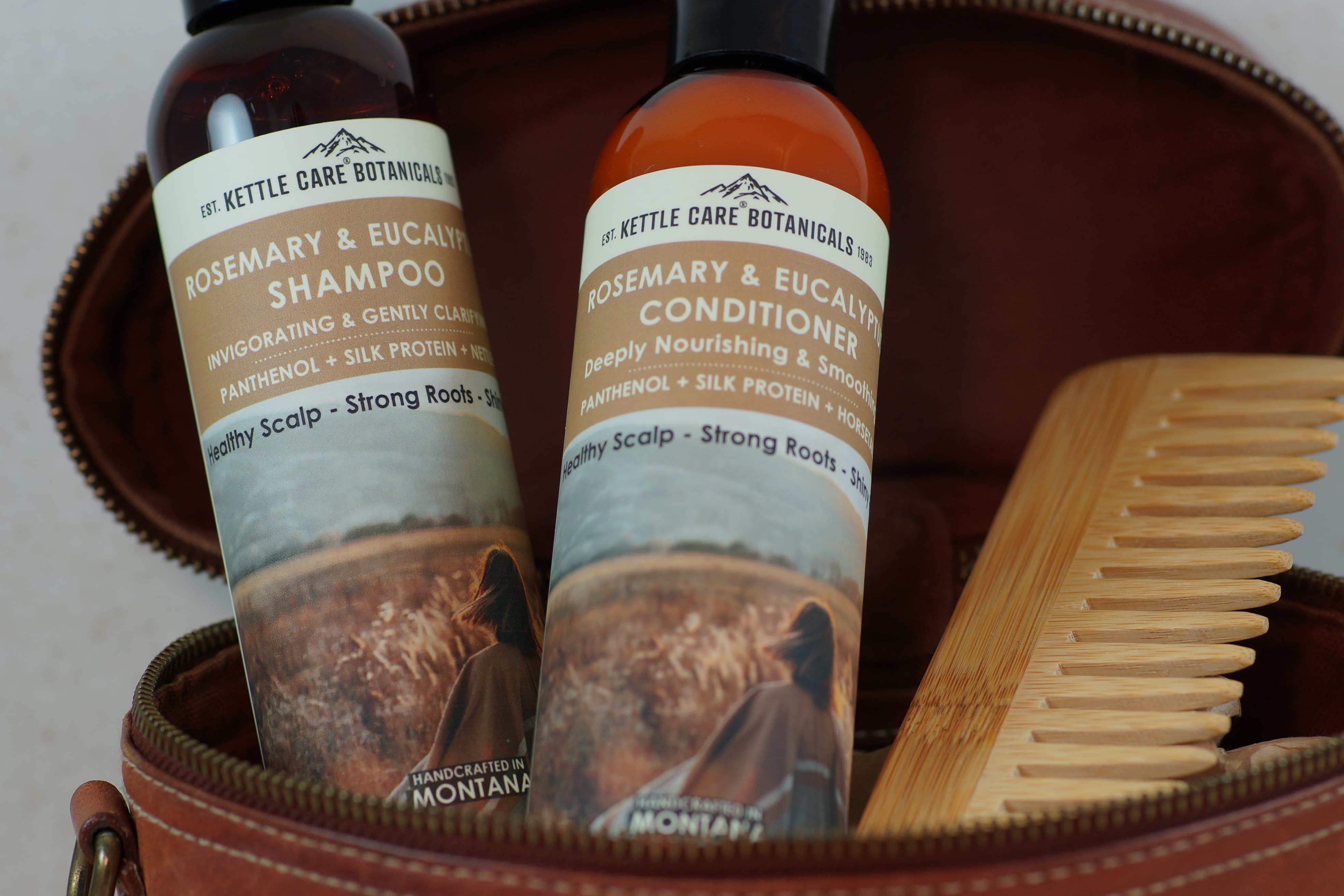 It's the moment we've all been waiting for. Kettle Care is revolutionizing not just your skincare routine but also your hair care routine.
We're thrilled to introduce Kettle Care's new shampoo and conditioner!
Take a look at the labels on some of your current products. We guarantee they're full of sulfates, parabens, and other harsh chemicals that help the products lather—and damage your hair in the process.
Our new shampoo and conditioner are the perfect natural alternative to your current products. Made with a clarifying yet nourishing herbal blend of 9 scalp- and hair-loving botanicals, the Kettle Care shampoo and conditioner will leave your hair feeling clean, soft, and full of life.
And the best part? They work for every hair type—long or short, oily or dry, ultra-curly or pin straight.
So without further ado, let's introduce your new favorite products.
Rosemary & Eucalyptus Shampoo
Say hello to your new best friend. Clarifying yet deeply moisturizing, this herbal blend will cleanse your hair of oils and product buildup without stripping your hair of its natural oils or irritating your scalp. It will calm frizz, fortify your damaged follicles to protect your hair from breakage, and leave your hair shiny and your scalp happy. Formulated without harsh chemical flash-foaming agents, this product will gently cleanse without producing an unnecessary lather. Oh, and did we mention the scent? It's natural, soft, and calming—and it lingers just long enough to leave you feeling refreshed. Our Rosemary & Eucalyptus Shampoo is sure to put a bounce in your hair and in your step.
Rosemary & Eucalyptus Conditioner
This conditioner is the ultimate confidence booster. Designed to smooth and detangle your hair without weighing it down, our Rosemary & Eucalyptus Conditioner gives you the best of both worlds: effortlessly glossy locks with a weightless bounce. Formulated without silicones and synthetic ingredients, this product naturally prevents protein-loss, strengthens brittle, broken strands, and guards against environmental toxins, leaving your hair looking and feeling healthier—from root to end. You'll feel more like yourself after every wash.
The Backstory
Here at Kettle Care, we believe in the power of simplicity. Today's popular hair care products are laden with chemicals that don't offer any real benefits to your hair. Not Kettle Care. We rely on the power of nature's own ingredients. We set out to create the perfect natural shampoo and conditioner, made with ingredients we (and our customers) can really trust. We ditched the sulfates, parabens, artificial fragrances, phthalates, and petrolatum found in most hair care products. We carefully crafted and honed the signature blend of botanicals in our shampoo and conditioner, testing and retesting them until the formulas were perfect.
Let's face it: Customers today have too many choices when shopping for hair care products. There are a million shampoos, conditioners, leave-in conditioners, and dry shampoos in the aisles of our stores. So we again applied the principle of simplicity. We asked ourselves, "How can we reduce the number of products on the shelves?" And then it dawned on us: We could create one shampoo and conditioner set that would work for every hair type. And create it we did. The new Kettle Care shampoo and conditioner work seamlessly with any hair. The only thing you need to change is how much product you use. It's as simple as that. With these products, you can fully customize your hair washing experience to meet your hair's unique needs.
You may also enjoy the following blogs & info: