Posted by Kettle Care Team on Jan 30th 2023
Here, at Kettle Care® Botanicals, we're always looking for new ways to meet our customers' needs. We formulate products that solve problems. They protect your skin from the weather, from dehydration, from redness and irritation.
A while back, our team sat down to talk about lip balms. We searched our pockets for all the balms we'd been using and placed them on a table. We each had a pile in front of us — Kettle Care® products and competitors'. Each lip balm had its own advantages, and the variety was overwhelming.
We asked ourselves,
"What lip product would we create if we could only carry ONE?"
Our guys pointed out that they don't use lip balm, unless their lips were shredded. We thought, OK, let's start with a healing oil saturation. We chose Calendula, Chamomile, Lemon Balm, and Comfrey, botanicals powerful enough to soothe even the most shredded lips. We added L-lysine to fend off cold sores, Neem to prevent bacterial issues, Melissa to fend off viral issues, and Lemon Balm and Zinc to shield our lips from the sun and wind.
It sounded perfect. Yet, we wanted something extra, the cherry on top of this all-purpose lip balm. We added refreshing Peppermint essential oil to promote circulation and draw the balm deeper into our lips.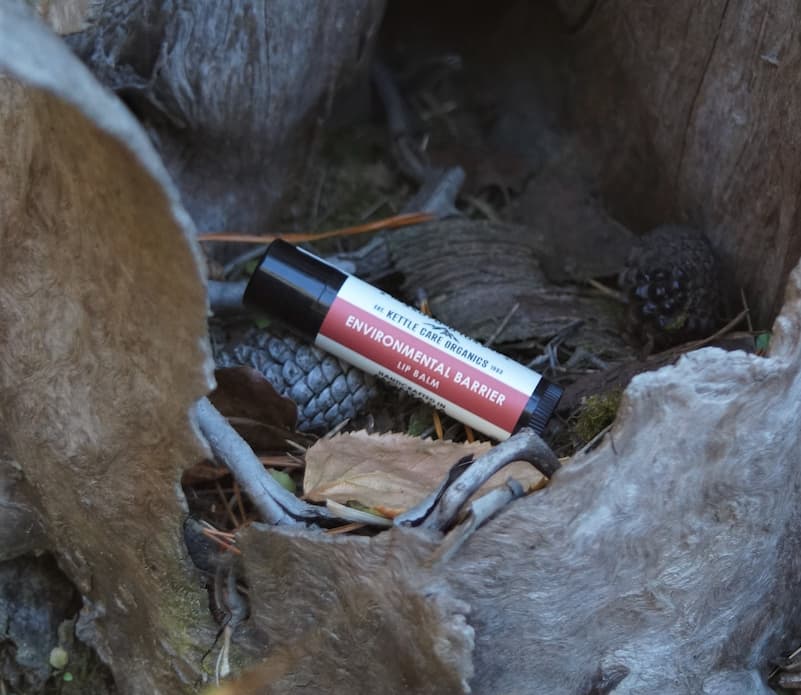 The Environmental Barrier Lip Balm was born. The long name seemed appropriate for this complex, all-purpose formula. With all of the ingredients and craft involved, we had to price this lip balm slightly higher than our others. But it was well worth it. We started calling the balm our "ONE and ONLY" and carried it with us everywhere we went.
Try it once, and you'll never use another lip balm!
But don't take our word for it. Here is what actual customers have to say…
*****
"Since I started using environmental lip balm, it's been goodbye to chapping from wind, cold, and sun. Great protection for outdoor lips!"
-Lauren K
*****
"This product is my GO TO. It's light enough to carry in my pocket on backpacking trips (and has saved my lips on countless treks from both wind and sun burn). It's even good in a pinch to use on my sensitive skin as sunscreen for my ears, nose and cheeks when the rays seem too hot to handle. Literally have one of these that lives in my backpack, another in my car as a backup, and one in my bathroom to grab on those summer days I know I'll be walking around or outside all day."
-Ashley P
Today, the Environmental Lip Balm is one of our best sellers. Customers come to our store just to stock up on this product.