Posted by Annegret & the Kettle Care® Team on Aug 19th 2022
Here at Kettle Care®, we care deeply about our customers. We're invested in bringing you the best possible products — the perfect cream to soothe your sensitive skin or just the right shampoo to keep your hair bouncy and smooth.
And just like our products, this company is a work of heart.
Kettle Care® Organics was founded in 1983 in the Kettle Mountains of Washington, where our company's founder first fell in love with botanicals. She grew herbs in her garden and sold them at local farmers markets. Whatever she couldn't sell she carefully dried and turned into botanical extracts. Having struggled with eczema her whole life, she decided to use her extracts to make a homemade skin cream. To her surprise, the cream did more than soothe her skin — it cured her eczema entirely.
Wondering what made her homemade cream so much more powerful than the other products she'd tried, she decided to compare formulas. She discovered three key differences — the same differences that still set our skincare apart, 40 years later:
Her cream was made with natural beeswax.

It contained high concentrations of skin soothing and strengthening botanical extracts and essential oils and very few of the popular ingredients she saw in other products.

And, most importantly, her cream contained ingredients she knew and trusted — and none of the chemicals so long they're impossible to pronounce.
This cream, originally called Herbal Aid Creme and now known as our Herbal Skin Soother, was the genesis of Kettle Care® and inspired our continued mission — to create products that work using ingredients you trust.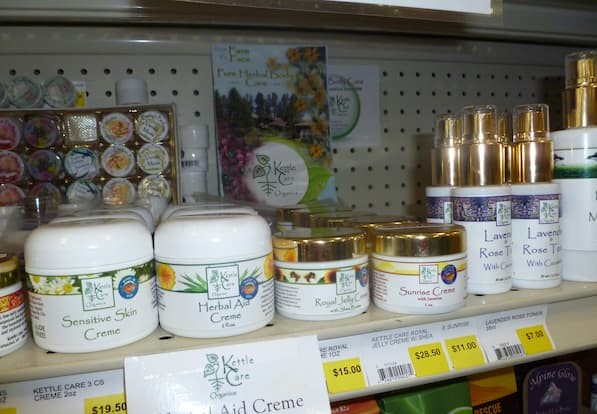 It's this mission that drew Klaus and I to purchase Kettle Care® a decade ago. I'm highly sensitive to the chemicals used in most skincare products and started making my own products in my early twenties. When I discovered Kettle Care® 15 years ago, I became the company's biggest fan. Their products worked wonders on my sensitive skin.

40 years later, Kettle Care is still a beacon of hope for people who want healthier, more natural alternatives in their skincare routine. We always start with raw botanicals, some of which we still harvest ourselves on a local organic farm — much like our founder did when she created our first product — or wildcraft and dry on metal screens. We're still invested in giving you the most effective, price-conscious, and natural products possible.
And we're still putting your needs first. Because we know the success of our company is about more than our products. It's about you, our loyal customers, some of whom have been with us from the beginning.
To all of you — whether you've been supporting us for decades or you're just discovering what our products can do for you — thank you. Everything we do, we do for you, and because of you. You can read more about our steps into the future here!